整体色调以原木色,清新绿和藕粉色为主,局部空间通过金属的材料加以点缀。
The overall color is mainly wood color, fresh green and lotus root pink, and the local space is embellished with metal materials.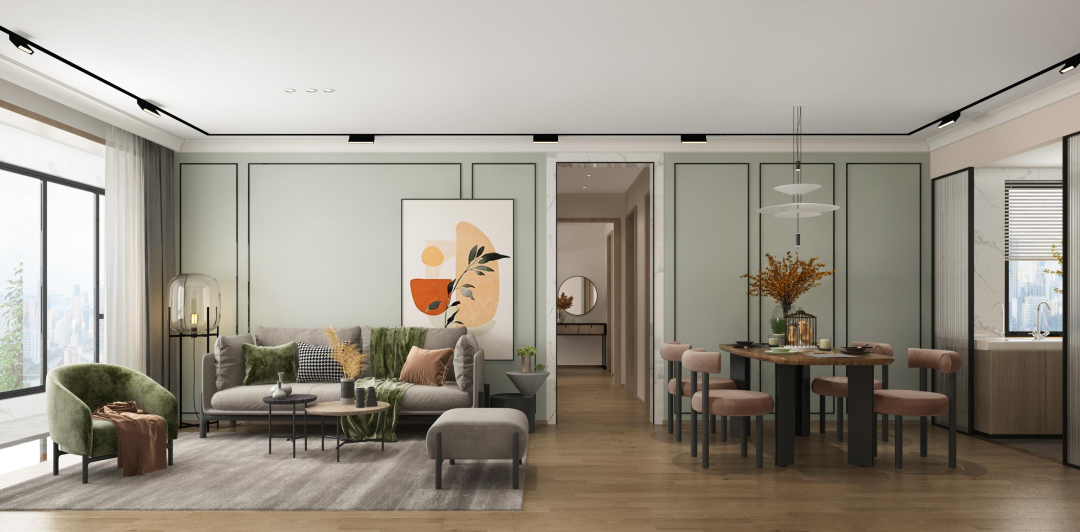 软装则以时尚艺术家具与纯朴布艺的结合,采用绿色植物纹理,给人一种清新,亮丽之感。
将独特创新设计的热忱贯穿整个空间,透露着主人时尚与艺术,彰显主人的生活品味及艺术追求。
The soft furnishing is a combination of fashionable art furniture and simple fabrics, using green plant textures, giving people a fresh and bright feeling.The enthusiasm for unique and innovative design runs through the entire space, revealing the owner's fashion and art, highlighting the owner's life taste and artistic pursuit.
---
以金属、皮革的中性色调为主,用色彩的纯度传递细腻的质感,造型简洁,线条流畅的家具组合搭配,营造出稳定、协调、温馨的空间感受,满足现代年轻家庭的轻奢需求。
Mainly based on the neutral tones of metal and leather, the purity of the color is used to convey the delicate texture, and the combination of simple shapes and smooth lines creates a stable, coordinated and warm space experience to meet the light luxury needs of modern young families.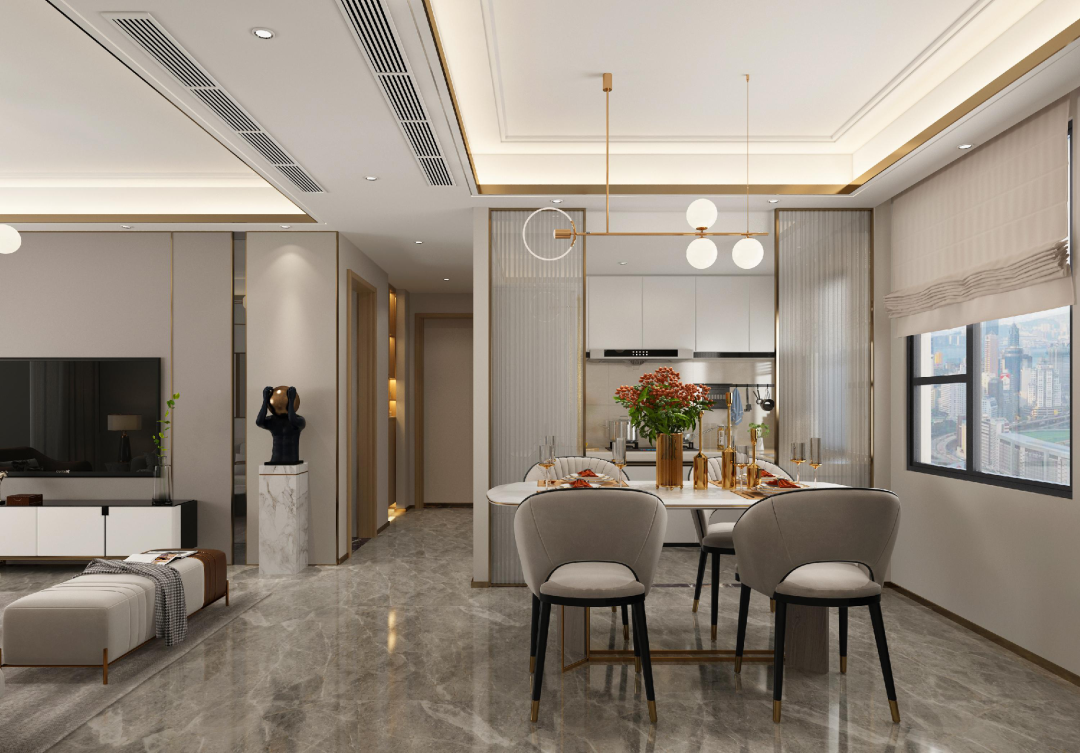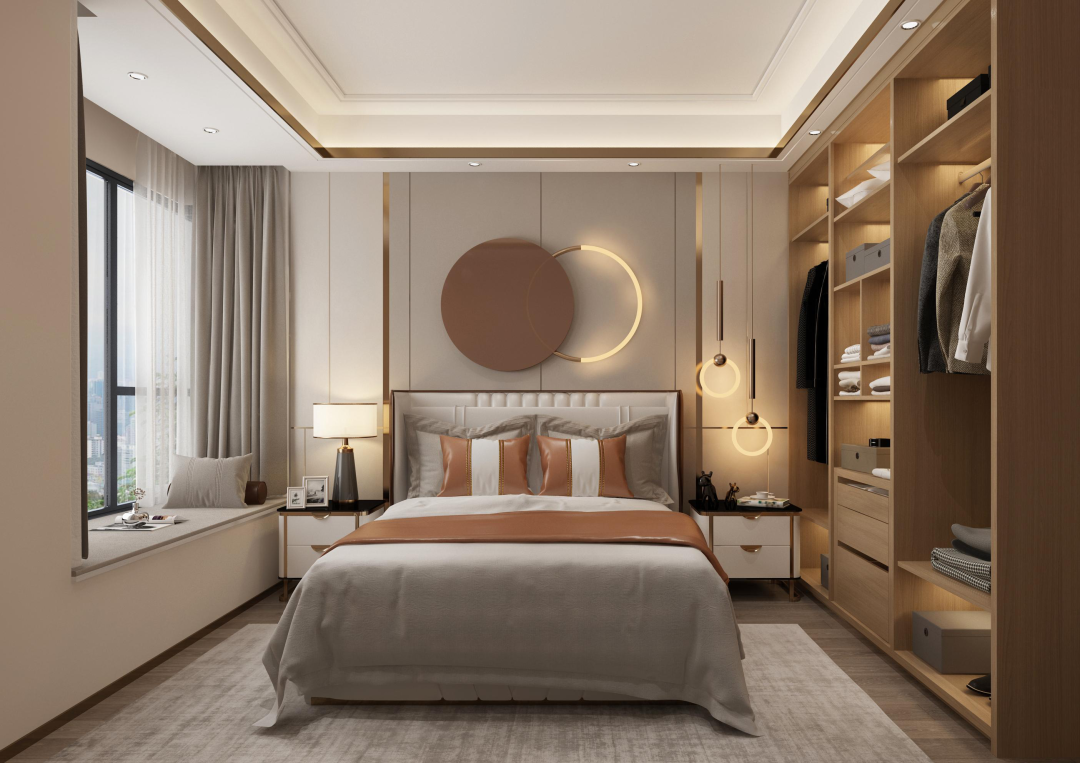 在视觉上舍弃张扬,通过对线条与色块的巧妙应用,营造出轻松的空间氛围,传递"轻奢华、新时尚"的生活理念。
Abandon publicity visually, create a relaxed space atmosphere through the clever application of lines and color blocks, and convey the life concept of "light luxury, new fashion".
---
空间不仅体现多元化的生活方式,还要适应现今社会对于居住空间的高要 求。每一处空间各司其职,显现出主人家典雅精致的生活品味 。
The space not only reflects the diversified lifestyle, but also adapts to the high requirements of the current society for living space. Each space performs its own duties, showing the elegant and exquisite taste of life of the owner.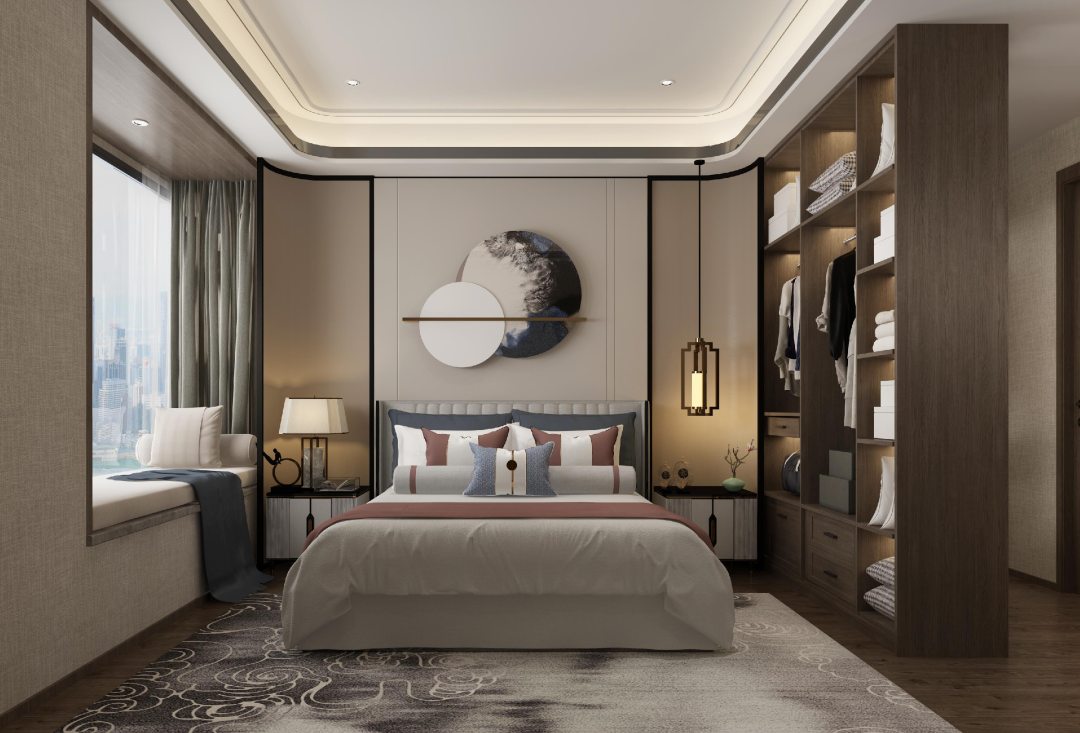 软装将现代的装修材质配以现代时尚潮流动感的元素与传统式中式元素完美地结 合在一起 。
师法自然, 糅合形与神、景与情、意与境的相互渗透。
The soft decoration perfectly combines modern decoration materials with modern fashionable and fluid elements and traditional Chinese elements.Learning from nature, blending the interpenetration of form and spirit, scenery and emotion, mood and environment.